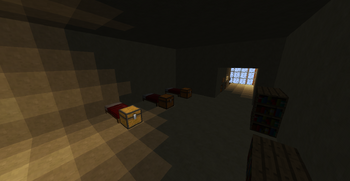 Armory is an area in Inferno Mines, a CTM map by Vechs.
Overview
The armory is one of the three starting areas in Inferno Mines. The player can choose Skylight C to easily access this area. The armory is filled with chests that provide many forms of armor and swords, and even an anvil with enchanted books. The entrance/exit is located at the other side of a broken glass bridge.
Points of Interest
Loot
2 Stone Swords, Bow, 6 arrows, 10 torches, full leather armor except for a cap, golden apple
4 Nether Wart
Iron Sword, Bow, 64 arrows, 64 torches, 64 leather, cooked porkchop.
Stone Sword, 6 arrows, leather cap, Enchanted Books of Thorns III, Fire Protection IV, Blast Protection, Projectile Protection, Unbreaking III and Feather Falling IV
27 nether wart as well as random loot
Sharpness IV Knockback I Looting II Iron Sword
Gold and iron armor pieces.
5 random loot chests
Resources
Hostilities
Strategies
Leads to...
Ad blocker interference detected!
Wikia is a free-to-use site that makes money from advertising. We have a modified experience for viewers using ad blockers

Wikia is not accessible if you've made further modifications. Remove the custom ad blocker rule(s) and the page will load as expected.