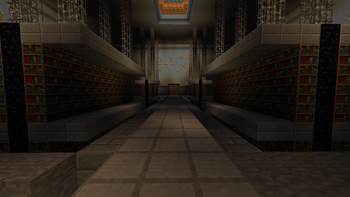 Bewitched is the twelfth dungeon on Super Hostile Online, an MMO Minecraft server created by Vechs.
Overview
Bewitched is the third and final dungeon in a set dedicated to Spellbound Caves, and is based on the Blackened Library, Rattle-bone Crypt and Black Heart Citadel. The player starts off at the top of the steps leading to the Library. From there, they take the path way around the edge of the library to reach the bookshelf maze. At the location of the Orange Wool in the maze, the player can acquire a Flying Carpet. After making it back out, they must work their way down to the location of the Magenta Wool Fleecy Box in the lava. After jumping in to the Fleecy Box, the player must step on to a pressure plate that will give them Levitation, which will lift them in to the ceiling and in to another maze leading to the Rattle-bone Crypt segment.
Once inside the crypt, the player will have to evade max spawns to find the location of the Blue Wool. This leads to a massive drop in to a pool of water. Next to the pool is a path that leads to the Black Heart Citadel area of the dungeon. If the player can get through the Citadel and reach the location of the Black Wool, guarded by Witches, they will find the warp to the next floor and receive their dungeon coins
Points of Interest
Dungeon Coins
4 Dungeon Coins upon completion
Resources
Shop selling enchanted gear
+1 Knockback Resistance Flying Carpet
Hostilities
Capped Mob Spawns
Lava trap in the Blackened Library
Dark Mages (Armored Witches)
Leads to...
Ad blocker interference detected!
Wikia is a free-to-use site that makes money from advertising. We have a modified experience for viewers using ad blockers

Wikia is not accessible if you've made further modifications. Remove the custom ad blocker rule(s) and the page will load as expected.