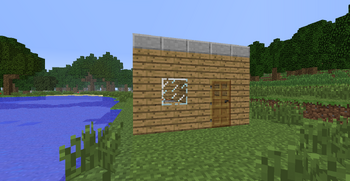 This is the Brown Wool Dungeon of Lethamyr , a CTM map by Vechs.
Overview
The Brown Wool dungeon is a very simple wooden hut sitting next to Lethamyr Lake. The house is 6 blocks long and 5 blocks wide, all walls are made of wood. The roof is made of stone slabs. Inside the hut is a crafting table, a furnace and a bed. There is a trapdoor in the corner which leads to the basement, featuring a double random loot chest and the brown wool.
Points of Interest
Monument
Loot
Strategies
In Variant E, any compass will point toward Lethamyr Lake, therefore pointing to this dungeon. (and the monument)
Leads to...
Ad blocker interference detected!
Wikia is a free-to-use site that makes money from advertising. We have a modified experience for viewers using ad blockers

Wikia is not accessible if you've made further modifications. Remove the custom ad blocker rule(s) and the page will load as expected.