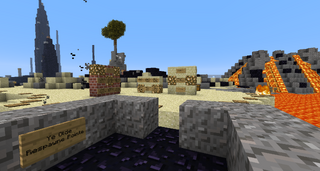 Classic Island
is an area in
Sea of Flame II
, a CTM map by Vechs. This is the starting area of the map.
Overview
Like in every Super Hostile map made by Vechs, the player first spawns facing a couple of signs with the map name, author name and standard rules of the map written on them.
The body of the island consists mostly of sand along the edges and stone, obsidian and gravel in the center. There are wooden pressure plates placed all around the border of the island, designed solely to "cause neat looking fires" (they do not trigger any known traps). There are also many signs which provide backstory on the various structures the player can see in the distance.
A small lava volcano connects to the island on the west. There is also a cave in the obsidian, leading to large veins of coal and a disused Victory Monument (from the original Sea of Flame) covered with cobwebs.
Points of interest
Resources
Hostilities
Strategies
Leads to...
Trivia
Ad blocker interference detected!
Wikia is a free-to-use site that makes money from advertising. We have a modified experience for viewers using ad blockers

Wikia is not accessible if you've made further modifications. Remove the custom ad blocker rule(s) and the page will load as expected.