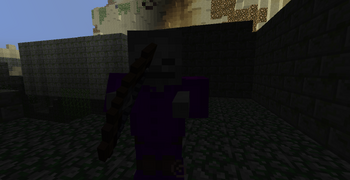 Codewarrior the Instigator is a boss mob in Inferno Mines, a CTM map by Vechs.
Overview
Codewarrior the Instigator is dedicated to Codewarrior, the creator of MCEdit, which Vechs uses as a primary tool for mapmaking. Codewarrior is a skeleton that uses a Flame IV bow called bow.schematic, and wears purple leather armor. It wears a skeleton skull on its head which must be harvested in order to complete the Hunter Monument at The Hallowed Overlook.
Equipment
Head of Codewarrior the Instigator
chest.armor
legs.armor
feets.armor
bow.schematic
Strategies
Codewarrior can be killed in three hits with a normal diamond sword if at least two hits are critical.
Ad blocker interference detected!
Wikia is a free-to-use site that makes money from advertising. We have a modified experience for viewers using ad blockers

Wikia is not accessible if you've made further modifications. Remove the custom ad blocker rule(s) and the page will load as expected.