Dispelled is the eleventh dungeon of Super Hostile Online, an MMO Minecraft server created by Vechs.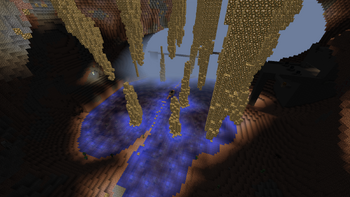 Overview
Dispelled is the second dungeon in a set dedicated to Spellbound Caves, and is based mainly on Cenote of the Apprentice and The Tenuous Crystals. The player starts out at the location of the White Wool in the Cenote, and must make their way through the Cenote to Intersection I in order to find the Tenuous Crystals area. The Tenuous Crystals section of the dungeon is extremely hazardous, as it is patrolled by Elder Guardians and skeletons using flame bows. Once entering this area, the player must make their way to the location of the Light Blue Wool in the fortress in order to acquire a Flying Carpet. After this is done, they must levitate across the gap in the bridge that leads to Intersection II. Achieving this, they enter the area that would be the Grove of the Dark Willows and Parkour past Spiders to reach the warp to floor twelve.
Points of Interest
Resources
+1 Knockback Resistance Flying Carpet
Hostilities
Natural Spawns
Flame Bow Skeletons
Duel-Wielding Wooden Sword Skeletons
Elder Guardians
Spiders
Cave Spiders
Leads to...
Ad blocker interference detected!
Wikia is a free-to-use site that makes money from advertising. We have a modified experience for viewers using ad blockers

Wikia is not accessible if you've made further modifications. Remove the custom ad blocker rule(s) and the page will load as expected.