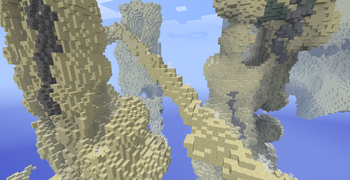 Floating Shards is the White Wool Dungeon in Legendary, a CTM map by Vechs.
Overview
Floating Shards is a number of floating bridges and mountains. These are all made of sandstone and stone. The walls contain coal ore, which can be used to make torches. There are cobwebs present on the bridges, which can be good for getting a bow early on. Some of the mountains contain ruins full of loot and monsters.
Points of Interest
Resources
Loot
Hostilities
Zombie Spawners
Skeleton Spawners
Cobwebs
Void
Fall Damage
Strategies
It is very recommended to bring building blocks when you tackle this area , as the distance between the shards can be quite great. Break as many cobwebs as possible , to gather string. Bows are recommended as the skeletons can often knock the player off into the void.
Leads to...