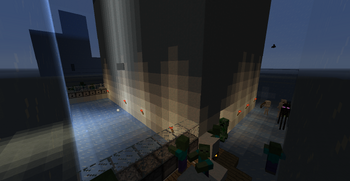 Frozen Tropics is the Gray Wool dungeon in Sunburn Islands, a CTM map by Vechs.
Overview
The dungeon is located deep under the waters of the Icy Floats. This dungeon is a tall tower made out of snow blocks, with a small perimeter guarded by mob-controlled dispensers, armed with snowballs. The interior of the tower consists of bland rooms made of snow. The fleecy box is located on the top floor.
Points of Interest
Monumental
Loot
Diamond shovel, 4 stacks of ice and snowballs.
Hostilities
Mob-controlled dispensers which shoot snowballs.
Natural spawns can be excessive due to a lack of space for them to spawn elsewhere.
Zombie spawners in the interior and at the dispensers.
Snow Golem spawners can cause creepers to blow up, resulting in water flowing into the dungeon.
Strategies
Leads to...
Ad blocker interference detected!
Wikia is a free-to-use site that makes money from advertising. We have a modified experience for viewers using ad blockers

Wikia is not accessible if you've made further modifications. Remove the custom ad blocker rule(s) and the page will load as expected.