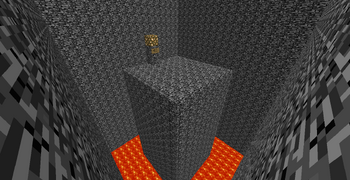 Game Over is an area in Nightmare Realm, a CTM map by Vechs.
Overview
Game Over is only accessable by dying without a bed spawn. When a player dies without a bed, they have lost the map and are sent here. The area is a giant hole of bedrock, with a bedrock island at the bottom, surrounded by lava. A sign tells them their location and that they've lost.
Points of Interest
Hostilities
It is impossible to escape this place. Don't come here.
Trivia
Sometimes the player will respawn in the lava or up at the top of the hole.
This can only be reached by dying without a bed, which is therefore losing the map.
Nightmare Realm is currently the only Super Hostile map with a Game Over area. Most other maps allow infinite respawns, and Lethamyr is on true Hardcore.
Ad blocker interference detected!
Wikia is a free-to-use site that makes money from advertising. We have a modified experience for viewers using ad blockers

Wikia is not accessible if you've made further modifications. Remove the custom ad blocker rule(s) and the page will load as expected.