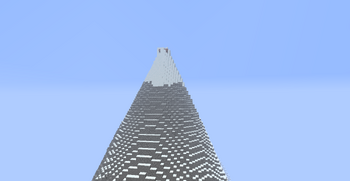 This is the Green Wool Dungeon of Lethamyr, a CTM map by Vechs.
Overview
The Green Wool Dungeon is, unlike many others in Lethamyr, not located in an underground structure/cave system. Instead, it is simply a fleecy box hidden at the top of a snowcapped mountain. The main challenge here is to locate the mountain, and to know it has the wool. While the Fleecy box is not open and obvious, it is visible from some angles. The mountain is made of dirt, stone and cobblestone, with snow blocks at the top.
Points of Interest
Monument
Strategies
Digging is essential here, unless players are willing to take the effort to jump up, as there is no easy stairway up. It is recommended to climb the dungeon during the day ; as skeletons may knock the player off , causing fall damage.
Leads to...
Ad blocker interference detected!
Wikia is a free-to-use site that makes money from advertising. We have a modified experience for viewers using ad blockers

Wikia is not accessible if you've made further modifications. Remove the custom ad blocker rule(s) and the page will load as expected.