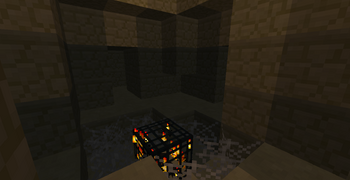 Hidden Sand is the Yellow Wool dungeon of Sunburn Islands, a CTM map by Vechs.
Overview
The dungeon is hidden on an island to the close west of the Starting Islands. It is hidden under 5 coal ores shaped in an X. The dungeon begins when the player falls down a long vertical shaft and hopefully lands in the cobwebs below. From here, players have a choice of four doors to go through. These doors will lead to other, larger rooms. The South-West and North-West rooms have a hole each, leading into the depths of the dungeon. The fleecy box is located down here, behind a glass wall. The entire dungeon is covered in cobwebs.
Points of Interest
Monumental
Resources
Coal Ore
Cobwebs give string
Loot
Minor Loot Chests and Random Loot Chests in the North room. The random loot chests contain potions and stacking water bottles.
Hostilities
Spider Spawner at the entrance.
Zombie Spawners in the upper part of the dungeon.
Cobwebs
The long fall at the start can kill players if the don't land in the cobwebs.
Strategies
Leads to...
Ad blocker interference detected!
Wikia is a free-to-use site that makes money from advertising. We have a modified experience for viewers using ad blockers

Wikia is not accessible if you've made further modifications. Remove the custom ad blocker rule(s) and the page will load as expected.