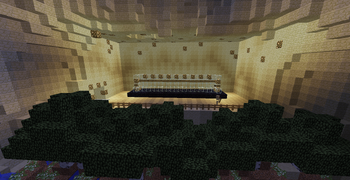 Home of Victory is an area in Legendary, a CTM map by Vechs.
Overview
Home of Victory's main feature is the Victory Monument. As well as this, there is also a forest of birch trees. Up above the forest are shortcuts back to previous Intersections. To the left of the monument is a base for players, where they can store items, sleep and farm resources.
Points of Interest
Monumental
Loot
A chest containing 54 minecarts
A chest containing 27 stacks of leather
A railway kit
Resources
Birch Tree Forest
A chicken spawner (which only works correctly in older versions of the game)
Oak, spruce and birch tree
Grass (for seeds)
Shortcuts
A shortcut back to Intersections 1, 2, 3 , and 4.
Hostilities
Above the monument is a lava trap but it shouldn't activate on it's own.
The area is not fully lit especially under the trees and by the rail station, allowing mobs to spawn.
Leads to...
Ad blocker interference detected!
Wikia is a free-to-use site that makes money from advertising. We have a modified experience for viewers using ad blockers

Wikia is not accessible if you've made further modifications. Remove the custom ad blocker rule(s) and the page will load as expected.