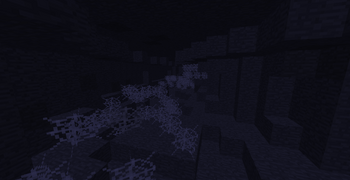 Home of Swarm is the Blue and Green Wool Dungeon in Nightmare Realm, a CTM map by Vechs.
Overview
Home of Swarm is a cavern made entirely out of Stone Silverfish Blocks, meaning that breaking any of them will result by spawning a few silverfish. The cavern is decorated with cobwebs, making the area difficult to traverse. At the back of the cavern, near a chest is a deep crater. Inside the crater are two more caverns, a Fleecy box for each cavern. The Green Wool Fleecy Box is encased in bedrock so players cannot get in without ender pearls.
Points of Interest
Monument
Resources
Loot
Stone Tools and Food - Medium
Combat Supplies - Low in the deepest part of the caves.
Combat Supplies - Medium near the crater
Hostilities
Cobwebs
Silverfish blocks
Fun Box near the Green Wool
Strategies
Leads to...
Ad blocker interference detected!
Wikia is a free-to-use site that makes money from advertising. We have a modified experience for viewers using ad blockers

Wikia is not accessible if you've made further modifications. Remove the custom ad blocker rule(s) and the page will load as expected.