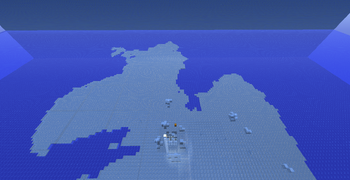 Icy Floats is an area in Sunburn Islands, a CTM map by Vechs.
Overview
Icy Floats is a number of ice blocks floating in the ocean. They're sizes vary; some are small, some are big. This area serves as both an entrance to the dungeon "Frozen Tropics?" and as a method of traveling the ocean without a boat. The area also connects to many other dungeons and areas such as Netherstorm Island.
Points of Interest
Loot
Random Loot Chest outside Frozen Tropics.
Hostilites
The ice can be slippery, making travel difficult, but it shouldn't provide too much threat.
Strategies
Leads to...
Ad blocker interference detected!
Wikia is a free-to-use site that makes money from advertising. We have a modified experience for viewers using ad blockers

Wikia is not accessible if you've made further modifications. Remove the custom ad blocker rule(s) and the page will load as expected.