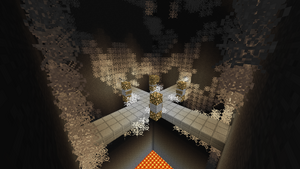 Intersection 03 is an intersection in Waking Up, a CTM map made by Vechs.
Overview
Intersection 03 is a large room that contains many webs. The intersection bridges over lava, which can make it dangerous to players if they are careless.
Points of Interest
Monument
Hostilities
Lava below the intersection can be dangerous to careless players.
Leads To
Ad blocker interference detected!
Wikia is a free-to-use site that makes money from advertising. We have a modified experience for viewers using ad blockers

Wikia is not accessible if you've made further modifications. Remove the custom ad blocker rule(s) and the page will load as expected.