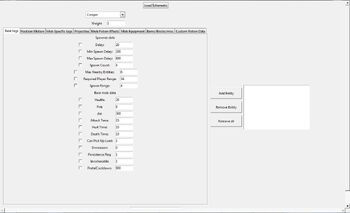 Kamyu's Tools is a set of map making tools that Vechs uses to create some of his custom Mobs and random loot chests.
Overview
Kamyu's tools is a set of tools that allows map makers many highly configurable options to assist in the creation of their maps. These tools make random loot chests, custom potions, and custom mob spawners for use in MCedit and Minecraft.
Tools Used
Custom Spawners and Populate Chests are both confirmed. Potion Chest is likely used to make potions such as the jump boost potions that are spawned in Salire Castle. Custom Shops will be used in special NPC villages in an upcoming map, but have not yet been used.
Trivia
Vechs dedicated a custom mob named Kamyu the Hidden to the creator of Kamyu's tools, who's head can be collected for the optional Hunter Monument in Inferno Mines
Ad blocker interference detected!
Wikia is a free-to-use site that makes money from advertising. We have a modified experience for viewers using ad blockers

Wikia is not accessible if you've made further modifications. Remove the custom ad blocker rule(s) and the page will load as expected.