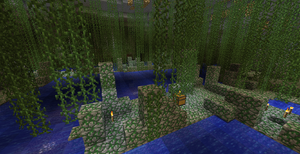 Lower Deathshallow Ruins is the Blue Wool dungeon in Waking Up, a CTM map created by Vechs.
Overview
The dungeon is a partially flooded cavern with vines hanging from the ceiling. The player enters the cavern by diving into a pool in the Deathshallow Courtyard. Ruined structures of mossy cobblestone form islands in the water, on which the player may find loot chests and skeleton spawners.
Points of Interest
Monument
Loot
Hostilities
Skeleton Spawners
Melee Skeleton Spawner
Creeper Spawners guarding the wool
Leads to...
Ad blocker interference detected!
Wikia is a free-to-use site that makes money from advertising. We have a modified experience for viewers using ad blockers

Wikia is not accessible if you've made further modifications. Remove the custom ad blocker rule(s) and the page will load as expected.