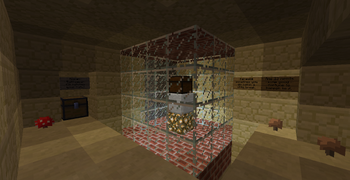 Lucky Break is the Brown Wool dungeon in Sunburn Islands, a CTM map by Vechs.
Overview
Lucky Break is hidden on the second island in the Starting Islands players will normally visit. The dungeon is very simply a small room with a fleecy box. There are also mushrooms and a Rosian Battlegear chest. The hardest part of the dungeon is finding it. While this is the thirteenth dungeon, it could very easily become the first dungeon players find.
Points of Interest
Monument
Loot
Resources
Strategies
The dungeon is easily found at night, because the light from the room shines outside.
Just walk in and take the wool. The loot is just as easy to obtain.
Leads to...
Ad blocker interference detected!
Wikia is a free-to-use site that makes money from advertising. We have a modified experience for viewers using ad blockers

Wikia is not accessible if you've made further modifications. Remove the custom ad blocker rule(s) and the page will load as expected.