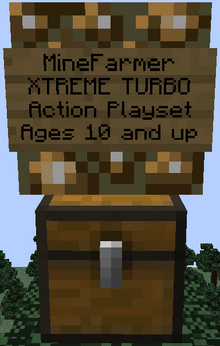 MineFarmer XTREME TURBO Action Playset Ages 10 and up is a type of supply chest found in some CTM maps made by Vechs.
The contents of these types of chests are:
3 dandelions and roses
3 red and brown mushrooms
3 sugar cane, vines and apples
3 oak, birch and spruce saplings
3 cactus
A pumpkin
A melon block
3 wheat, melon and pumpkin seeds
3 melon slices
6 sand
A water block
A stack of dirt
16 bone meal
2 stacks of fence
A stack of gates
An iron hoe and one pair of shears
Locations
This supply chest can be found in the following maps: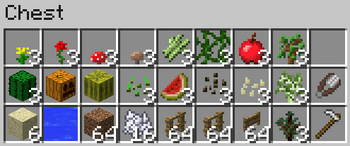 Ad blocker interference detected!
Wikia is a free-to-use site that makes money from advertising. We have a modified experience for viewers using ad blockers

Wikia is not accessible if you've made further modifications. Remove the custom ad blocker rule(s) and the page will load as expected.