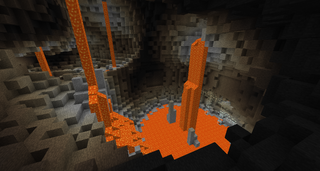 Molten Depths is an area in Sea of Flame II, a CTM map by Vechs.
Overview
The area is accessed by taking one of the rail tracks leading from Arcane Ruins. It's a massive underground cave area, named after the many lava lakes and lavafalls dropping from the ceiling of the cave. The area serves mostly as a rather dangerous intersection leading to two late-game dungeons. It's almost entirely made out of stone and lava, though it also contains several large coal veins.
Points of interest
Resources
Hostilities
Strategies
Leads to
Ad blocker interference detected!
Wikia is a free-to-use site that makes money from advertising. We have a modified experience for viewers using ad blockers

Wikia is not accessible if you've made further modifications. Remove the custom ad blocker rule(s) and the page will load as expected.