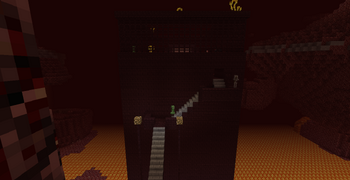 This is the Purple Wool dungeon in Kaizo Caverns . It has no official name, so is simply referred to as the Nether Fortress.
Overview
The entrance to the Nether Fortress is hidden under the path to Cavern of Sky . This is the only part of the map located in the Nether. After the going through the portal, the players will enter a base with loot along with an enchantment table and brewing stand. This dungeon does not look at all identical to the regular Nether Fortress. The fortress is a Nether Brick tower, with stone brick stairs going up to the entrance. Inside is a very short corridor, with a staircase at the end going to the roof, The roof has a Nether Brick Fence wall around it, with the fleecy box in the centre of the room. This can be a very short and easy dungeon, especially considering it gives the players good equipment at the start.
Points of Interest
Monumental
Loot
Resources
Enchanting Table
Brewing Stand
Nether Wart
Hostilities
Potential Ghasts
Zombie Pigmen
Creeper Spawners
Skeleton Spawners
Blaze Spawners
Cave Spider Spawners
Strategies
Leads to...
Trivia
This dungeon did not exist in the old version of the map, mainly due to no Nether Brick or Blazes.
Ad blocker interference detected!
Wikia is a free-to-use site that makes money from advertising. We have a modified experience for viewers using ad blockers

Wikia is not accessible if you've made further modifications. Remove the custom ad blocker rule(s) and the page will load as expected.