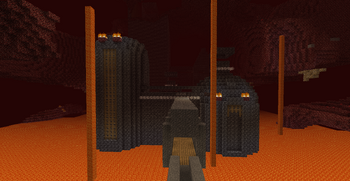 Netherstorm Island is the Black Wool dungeon of Sunburn Islands, a CTM map by Vechs.
Overview
Netherstorm Citadel is one of the two dungeons made out of bedrock. The entrance is a narrow stone bridge, leading to a wider wooden bridge. Rooms inside consist of libraries, lava rooms, a room with lapis walls and stairwells. Under the citadel is where the black wool is located, guarded by what used to be skeleton turrets but are now Wither Skeletons stuck in cobwebs and a Ghost mob called a Char.
Due to what is presumably an oversight, the Nether area in this map is not enclosed in bedrock, so it is possible to reach newly generated Nether terrain by simply walking in any direction.
Points of Interest
Monument
Loot
Resources
Hostilities
Strategies
Leads to...