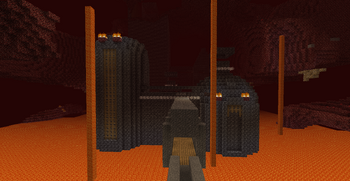 Netherstorm Island is the Black Wool dungeon of Sunburn Islands, a CTM map by Vechs.
Overview
Netherstorm Citadel is one of the two dungeons made out of bedrock. The entrance is a narrow stone bridge, leading to a wider wooden bridge. Rooms inside consist of libraries, lava rooms, a room with lapis walls and stairwells. Under the citadel is where the black wool is located, guarded by what used to be skeleton turrets but are now Wither Skeletons stuck in cobwebs and a Ghost mob called a Char.
Points of Interest
Monument
Loot
Resources
Hostilities
Strategies
Leads to...
Ad blocker interference detected!
Wikia is a free-to-use site that makes money from advertising. We have a modified experience for viewers using ad blockers

Wikia is not accessible if you've made further modifications. Remove the custom ad blocker rule(s) and the page will load as expected.