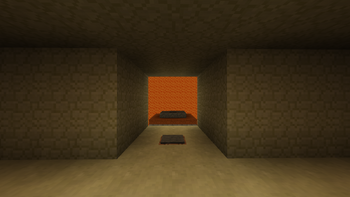 Pain Air is the ninth dungeon of Super Hostile Online, an MMO Minecraft server created by Vechs.
Overview
Pain Air is the third and final dungeon in a set dedicated to the classic map Legendary, and is based off of the dungeon Pain Water. The dungeon is essentially a maze of lava walls with safe platforms along the way. The player floats from one platform to the next using the Levitation buff that is refreshed at each stop. At the end of the lava maze is a long vertical shaft with horizontal floors of lava all the way up. The lava floors have spaces in them that become increasingly narrowed as the player floats upwards. If the player can float through the gaps in the lava floors successfully, they will reach the exit and gain their dungeon coins.
Points of Interest
Dungeon Coins
Resources
+1 Knockback Resistance Flying Carpet
Hostilities
Lava Walls and Floors
Skeletons
Leads to...