Rubble Pile is the second dungeon of Super Hostile Online, an MMO Minecraft server created by Vechs.
Overview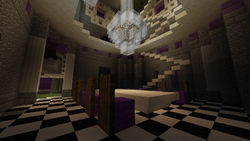 Rubble Pile is the second dungeon in a set dedicated to the original Super Hostile Online. This dungeon is accessed by beating the first dungeon and is located underground Therefore, mobs spawn here abundantly at all times. It is essentially a series of tunnels that lead to different buildings from the original server, such as player shops and homes. It merely acts as a transition from the first floor to the third, as this floor has no shops, Info Tags or Outposts.
Leads to...
Ad blocker interference detected!
Wikia is a free-to-use site that makes money from advertising. We have a modified experience for viewers using ad blockers

Wikia is not accessible if you've made further modifications. Remove the custom ad blocker rule(s) and the page will load as expected.