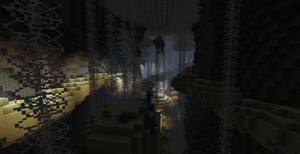 The Nest is the Light Grey Wool Dungeon in Waking Up, a CTM map made by Vechs.
Overview
The Nest consists of a long room that is covered with webs and contains a large variety of spawners, mostly cave spiders.
Points of Interest
Monument
Light Grey Wool
Chapter 13
Loot
Several Random Loot Chests
Hostilities
Cave spider spawners throughout the area.
Skeleton spawners at the beginning of the dungeon.
Ghast spawners on the ceiling and guarding the fleecy box.
Several Creeper spawners guarding the fleecy box.
All of the cobblestone in this area is silverfish.
Strategies
Taking the right path is advisable, as it leads to the chapter in this area.
Taking TNT and pressure plates/a flame bow is a good way to destroy the creeper spawners guarding the wool box.
Taking a night vision potion is a good idea, as it allows you to see spawners more easily.
Leads to...
Ad blocker interference detected!
Wikia is a free-to-use site that makes money from advertising. We have a modified experience for viewers using ad blockers

Wikia is not accessible if you've made further modifications. Remove the custom ad blocker rule(s) and the page will load as expected.