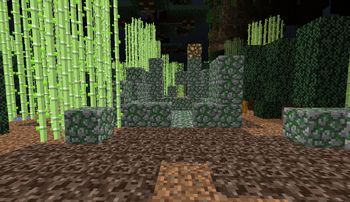 Tiny Ruin is the Light Gray wool dungeon of Canopy Carnage, a CTM map by Vechs. It has no hostilities of its own, and is actually exposed to sunlight through an opening in the dense canopy.
Overview
The Tiny Ruin is the smallest ruin in the map. It is made up of small moss stone pillars, with one having glowstone on top. Underneath is a small stone room with two chests, though there are no ladders to get up or down.
Points of Interest
Victory Monument
Loot
A chest containing a gold sword, gold leggings and gold boots
Strategies
The dungeon has no hostilities, so simply drop in, take the wool and loot and pillar your way out
The gold items have infinite durability, so try not to lose them
Leads to...
Ad blocker interference detected!
Wikia is a free-to-use site that makes money from advertising. We have a modified experience for viewers using ad blockers

Wikia is not accessible if you've made further modifications. Remove the custom ad blocker rule(s) and the page will load as expected.