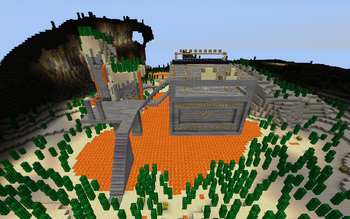 The Victory Monument area of Black Desert II is also the spawn point of the map, and likely the player's main base for most of the game.
Overview
The Victory Monument sits atop a stone brick building which is exposed to sunlight. The player spawns next to it as well as a set of signs with the general rules for the map. Leading off the roof is a staircase down to a platform with four potion spawners. From there, another path leads inside the building where some basic supplies await the player.
Points of Interest
Loot
A chest containing all the records in the game, as well as two stacks of anvils
Sweet Lemonade hidden in the tall hill right next to the building
Resources
Stone brick
Splash potions of Speed, Strength, Regeneration and Jump Boost III
Leads to...
Ad blocker interference detected!
Wikia is a free-to-use site that makes money from advertising. We have a modified experience for viewers using ad blockers

Wikia is not accessible if you've made further modifications. Remove the custom ad blocker rule(s) and the page will load as expected.