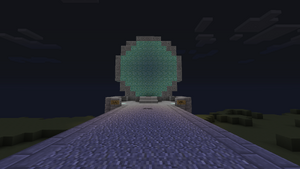 Western Uncommons, sometimes referred to as West Commons, is one of the three main player areas in Super Hostile Online, an MMO server created by Vechs.
Overview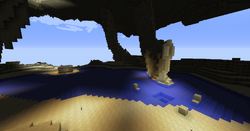 Western Uncommons is an enormous area made entirely of sandstone. With the exception of a few holes to let in sunlight, the entire area is covered by a ceiling that leaves most of the area completely dark. Despite this, no hostile mobs typically spawn in this area, as it is in a Void Biome. However, Ghostly Fishermen do occasionally spawn near the fishing hole. This area is intended by Vechs to be a peaceful building area, for players to create community builds or creative projects. Guilds or individual players may also set up shops here for other people to browse.
Points of Interest
Resources
Vast amounts of sandstone
A fishing hole for players to fish in, as well as a small hut that sells fishing rods
Hostilities
Leads to...
Ad blocker interference detected!
Wikia is a free-to-use site that makes money from advertising. We have a modified experience for viewers using ad blockers

Wikia is not accessible if you've made further modifications. Remove the custom ad blocker rule(s) and the page will load as expected.