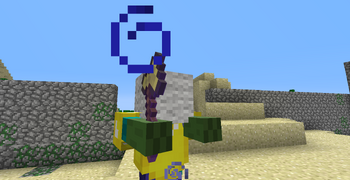 This is the White Wool Fleecy Mob of Black Desert II, a CTM map by Vechs.
Overview
The White Wool Zombie is located very close to the spawn base of the map. It's base is a small fort made of cobblestone and mossy cobblestone, with very weak defences. There are two short towers, one has loot and the other has a spawner dungeon. In the middle of the courtyard is the tower which holds the Fleecy Mob spawner. The Fleecy Mob is a zombie that wears White Wool on it's head and a golden chestplate. It uses a golden axe as a weapon.
Mob Analysis
Equipment
White Wool
Golden Chestplate
Knockback III Golden Axe
Stats
Loot
Strategies
The golden axe can be very dangerous to the player, as the knockback can easily throw them into one of the ravines or lava lakes in the area.
Therefore, it is best to fight the mob within the walls of the fortress courtyard.
It is best to get full leather armor, a wooden sword and the Fire Rod from the Craft heads and Melonheads before fighting this mob.
Ad blocker interference detected!
Wikia is a free-to-use site that makes money from advertising. We have a modified experience for viewers using ad blockers

Wikia is not accessible if you've made further modifications. Remove the custom ad blocker rule(s) and the page will load as expected.