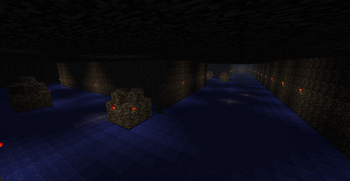 You're on a Boat is the Blue Wool dungeon in Sunburn Islands, a CTM map by Vechs.
Overview
This dungeon is located under the Lonely Island. It is a series of flooded corridors made entirely out of bedrock, and is faintly lit by redstone torches. There are spawners encased in bedrock around here, but these have redstone torches on them, minimizing the spawn rates. This is one of the more bland dungeons, with not many features to it.
Points of Interest
Monument
Loot
A double chest of boats
4 stone swords, 4 bows, 4 stacks of arrows, 32 torches and snowballs.
Hostilities
Varying spawners encased in bedrock.
Strategies
Hold onto more than one boat, as losing one is easy and can make the dungeon harder and more tedious.
Spawners can be destroyed from above - simply climb up at the bedrock.
Trivia
May be a reference to explicit band The Lonely Island's song I'm on a boat, as the name of this dungeon is "You're on a Boat" and it is located under the Lonely Island.
Leads to...
Ad blocker interference detected!
Wikia is a free-to-use site that makes money from advertising. We have a modified experience for viewers using ad blockers

Wikia is not accessible if you've made further modifications. Remove the custom ad blocker rule(s) and the page will load as expected.